School Show Entertainers



Dotto the Magic Clown
Throughout his long career Dotto has built a reputation for producing exciting entertainment, laced with lots of laughs wherever he has appeared. His high-energy performance combine many talents.
Alan Sloggett grew up with a travelling show called "The Incomparable Sloggetts". From the age of seven his ambition was to follow in his father's footsteps. Alan achieved his dream and attributes his success to dedication and hard work and a love and respect of his father's skills (Charlie Slogget), who was a household name from 1920 to 1960.
Juggling
Illusions
Live Birds
Balloon animals
Ventriloquism
Live animal productions
Puppetry

Ventriloquist and Magician – Al Pal
Alan Sloggett successfully combines the art of ventriloquism with illusion in this very entertaining and puzzling performance. How can the eyes that he draws on a white board move? And when the board starts to speak …. well that's what you can expect from a Ventriloquist who is also a Magician. Alan calls this ventriloquist dummy, Mark The Drawing. Mark gets to experience the five senses as he is drawn into life.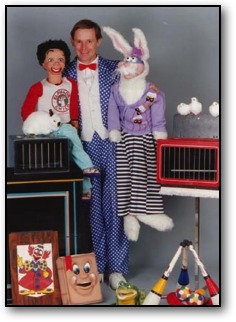 Ventriloquist and Magician – Al Pal
Alan brings two other ventriloquist puppets with him. There is Sunshine, who talks on road safety and Barney the Rabbit, who is learning to sing. He can actually sing quite well, but getting the words to his songs correct is another thing altogether. Both are loads of fun and a barrel of laughs.
To his skills as a Ventriloquist, Alan adds the wonder of magic. There is the slight of hand magic, where the hand is definitely quicker then the eye. The Rabbit that turns into a bird and of course the white doves that disappear and reappear in the most unlikely places.
And just to add that little extra bit of variety, Alan adds Alan Sloggetta juggling routine. The show has a Vaudevillian feel to it, with its combination of Illusion, Ventriloquism and Juggling Acts. It informs of Road Safety and the five senses (that we use daily but take for granted), and of course sets the little grey cells working overtime trying to work out – How did he do that ?
Read what the schools have to say.
For bookings in for School Shows Melbourne and suburbs school magic shows, please phone 03 9706 2433. For interstate bookings, please call School Performance Tours on 1800 221 509