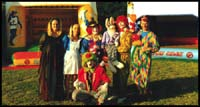 Clown Hire in Melbourne
You cannot throw a party without a good clown to liven things up! Below we have listed and described our adorable and funny clowns, we think the funniest clowns Melbourne have to offer you:
You imagine you see what you don't see and you don't see what you imagine you see.

Dotto the Magic Clown
YWinner of the "Charles Waller Cup" for "The Best Magic Act of the Year", and his experience of growing up with a travelling show has added to his skilful, fast-moving comedy magic show. He is a professional performer with many talents, but his clown magician show is maybe his best.

Dotto the Magic Clown
Hot Stuff has performed at most major shopping centres throughout Australia with his unique comedy magic show. He is also an adult's entertainer suitable as a magician for many functions including, hens' nights, 21st birthday parties, or as corporate function entertainment. He will have you amazed and thrilled with his comedy magician talents and sleight of hand magic. We recommend "Hot Stuff" for any function that needs entertainment.

Glitter the Magic Clown
Glitter is a clown of clowns! He will have you in fits of laughter with his antics and bewildered with his magic; from his spotted car to his spotted nose – very funny indeed!
Andy Pandy the Magic Clown
Andy Pandy is a very talented performer, with his specialist juggling, uni-cycling, handstands and magic. An energetic performer with amazing skills and a clown hire option that never disappoints.
Stretch the Clown
Stretch is ideal for Roving entertainment or as an event clown hire expert. He can think on his feet, even if they are oversized and excels at making fun balloon animals. He also rides a penny farthing, can you do that?.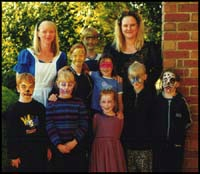 Face Painters
To add a nice touch to any party, we also provide face painters. Our face painters are professional make-up artists who paint a wide variety of different faces. The face painters arrive dressed in characters of Alice in Wonderland, Enchanted Wood Fairy or clowns. Our face painters are also capable of creating balloon animals and hosting games and activities.
Magic Shows
These shows include comedy magic, balloon animals, live animals (magically produced!!), juggling and children's participation is encouraged throughout. It is fast moving and a very fun performance enjoyed by those of all ages.
Magic Puppet Shows
Similiar show as mentioned above, but with ventriloquist puppets throughout the performance. This show also features the unique and amazing talking drawing board! The performer in this show is award – winning and is currently touring Australian schools with his performance.
Roving Magic
This is magic on the move! We have balloon animals, pocket magic, unicycling and much, much more. This is equally entertaining for adults and children. In addition to the above, a number of different clowns are available. Each of them are unique in terms of the talents and skills they possess.
All performers are specialist balloon animal sculptors who will amaze you with their many different and unusual varieties of animals. Whether it be a show or roving performance, they will make your function a memorable occasion.
If you want to add some excitement to you next event, contact Comedy Clowns in Melbourne today!