Santa Claus Hire Melbourne
A beautiful holiday season for joy and laughter – Christmas!
There is immense amount of energy and vibrance to this occasion – because of the exciting customs and traditions that form a big and integral part of the festivities.
On the other hand, this is a magical time for your children and a great time for the entire family as well.
Your children are eagerly looking forward to Christmas trees, decorations, gifts, stories, carols, food, elves and of course – one of the most important personalities – Santa Claus!
Recent event held at the RACV Club on Christmas Day – Alan as Santa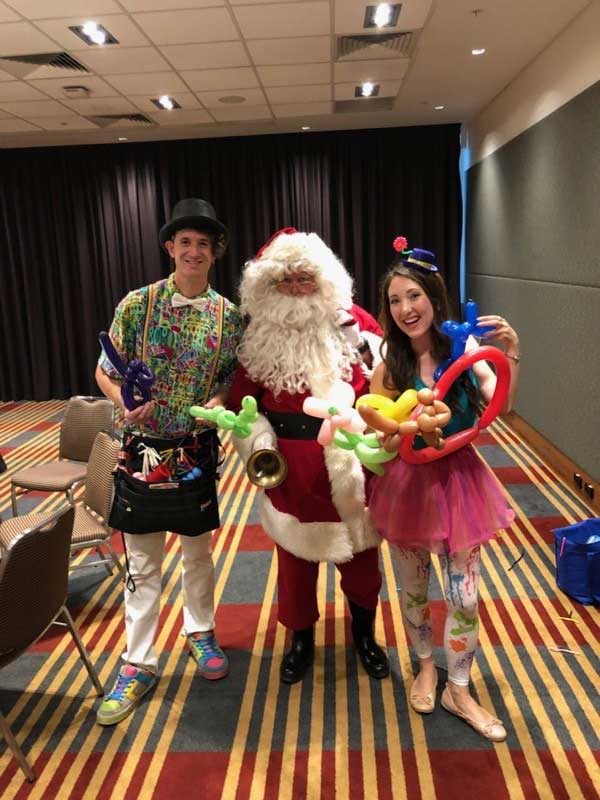 You can hire our Santa Claus in Melbourne!
At Comedy Clowns, we will make sure your gathering of friends and family – will be a fantastic and memorable Christmas celebration.
It is certain, both children and adults will remember our performance for years to come! You may even hire us again for the next year.
At your doorstep, you will find an authentic looking Santa! Even you will be mesmerised when you take a look at him. From his glasses to the beard – and from the hat to his big boots, you will be all excited! Out of the sheer excitement, there are chances that you might just drag him in!
Our Santa will arrive at your function discretely – wearing a top-quality costume. He will start ringing the Christmas bell and sing with a lot of energy and gusto! Along with him are his helpers – the elves. Together, they will not just be handing out the presents – but they will add more energy and spirit to your party through their performance.
So, how will Santa captivate and grab the children's attention?
An uplifting and cheerful performance which will include singing of Christmas songs and carols
Exciting games where the children will play as Santa's little helpers
A fun conversation where each child will get an opportunity to sit on Santa's knee
Laughter and fun-filled photograph sessions
Santa will ask the children funny questions and keep everyone laughing in the entire house
He will also share his stories about Rudolph and the elves
Of course, giving out gifts
Our performers at Comedy Clowns are highly experienced – when it comes to working with children and will make sure that your kids will have a phenomenal and fantastic time during the entire celebration. You will be extremely delighted with the level of professionalism and attention to detail.
Invite our Santa for your next Christmas event. Our team will look authentic and you never know – might bring back good memories about Santa Claus, when you were a kid.
If you have any more questions pertaining to our Santa Claus Hire services – feel free to contact us today. The team at Comedy Clown would be delighted to hear from you!