Jumping Castle and Bouncy Castle Hire
Scroll down to View Our Castles: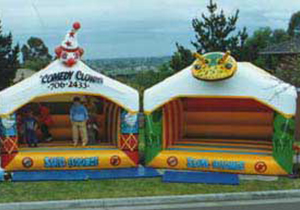 The Clown and The Frog – Jumping Castle
3.7m x 3.7m
Holds children up to 9 years old. No more than 10 at one time.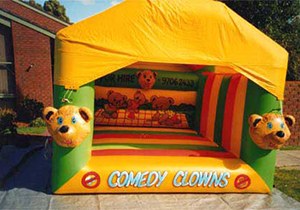 Teddy Bears Picnic – Jumping Castle
3m x 3m
Holds children up to 9 years old. No more than 6-7 at one time.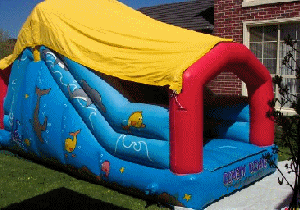 Twin Slide Combo Bouncy Castles
7.1m Long, 3m Wide, 4.1m High.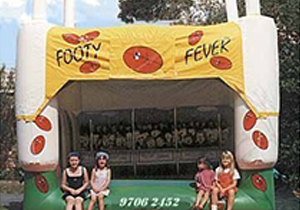 Footy Jumping Castles
3.8m Long, 3.8m Wide, 5m High
The child has the banner of his/her favourite team placed on the front.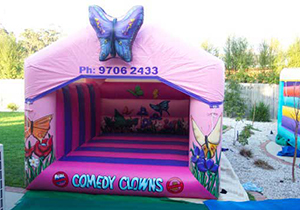 Butterfly jumping castle
3m x 3.7m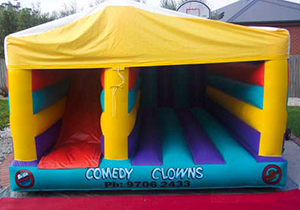 Combination Slide & Jumping Castle
5m Long, 4m Wide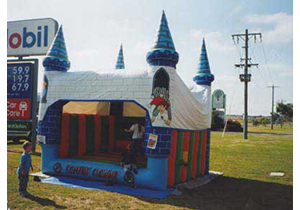 Medieval jumping castle
4m x 4m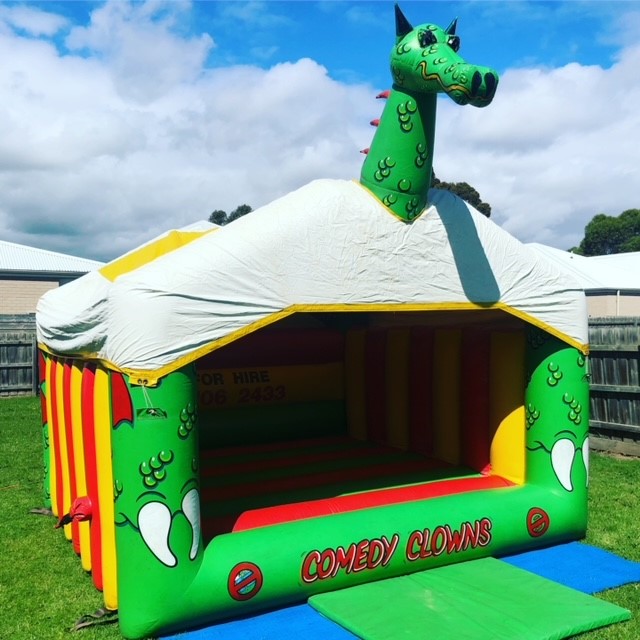 Baby Dragon – Great for kids upto 12yo
4m x 4m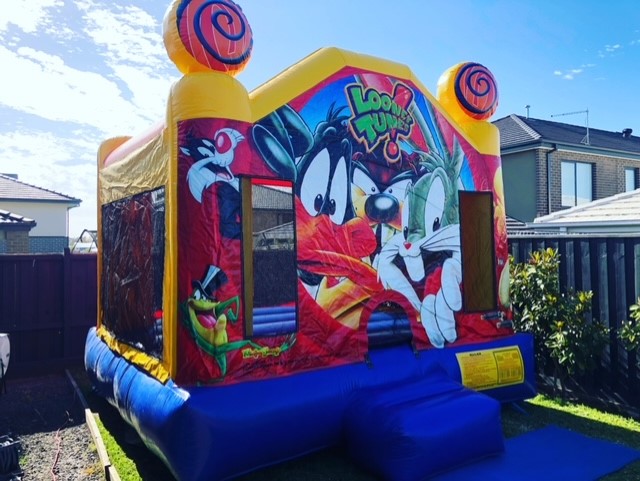 Looney Tunes – Great for kids upto 11yo
4m x 4m
Disney World – Great for kids upto 13yo
4m x 4m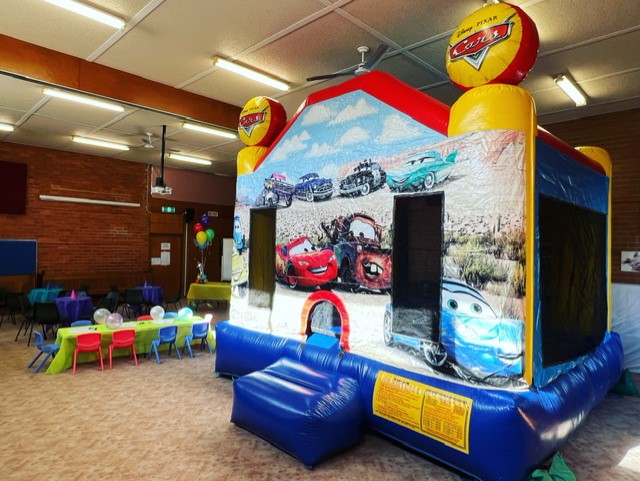 Disney Pixar Cars – Great for kids upto 11yo
4m x 4m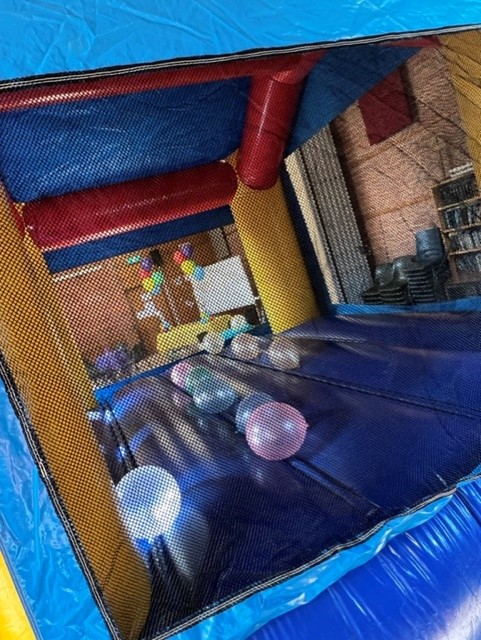 Disney Pixar Cars – Great for kids upto 11yo
4m x 4m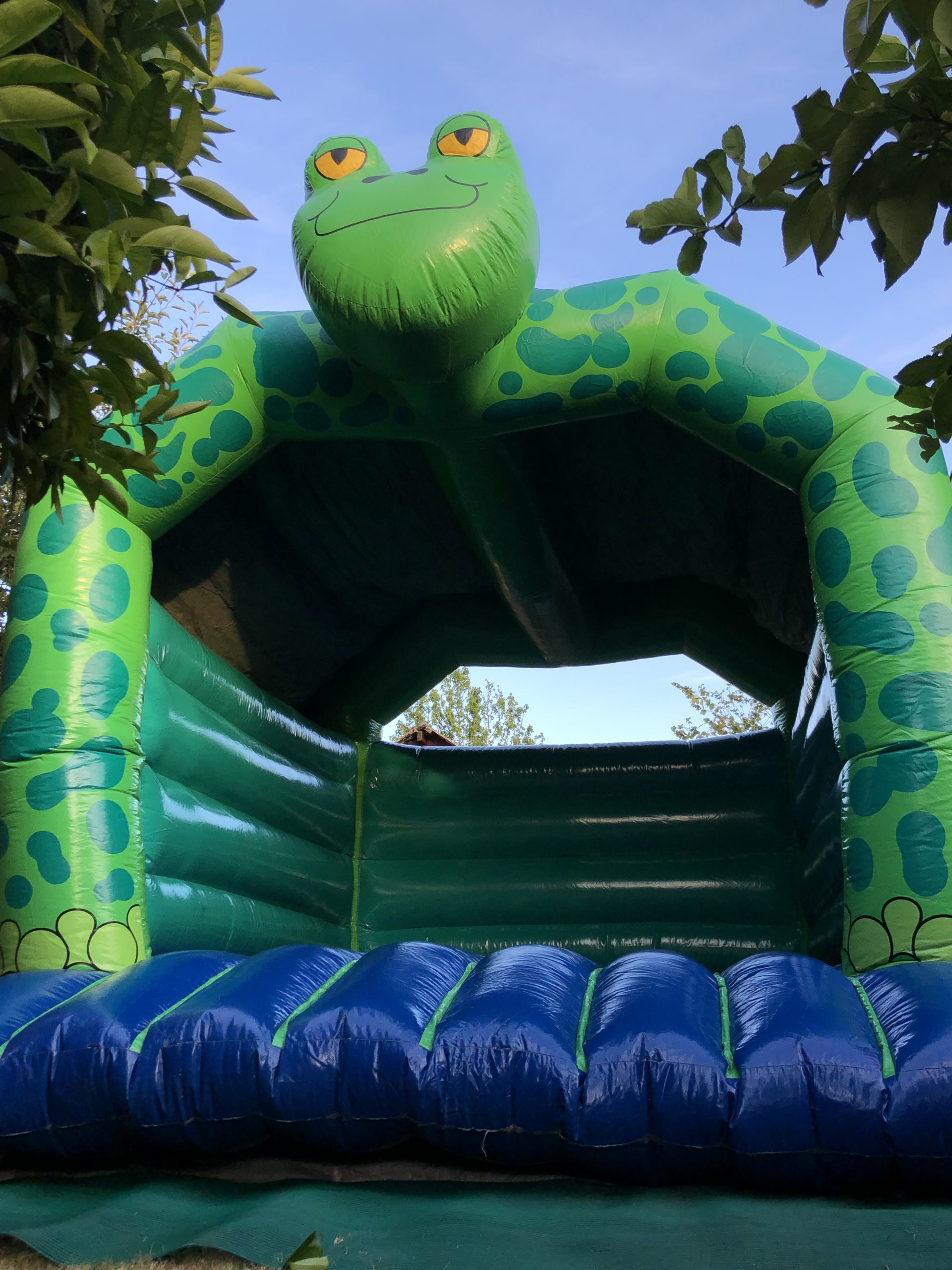 Froggy Fred – Great for kids upto 15yo
4m x 4m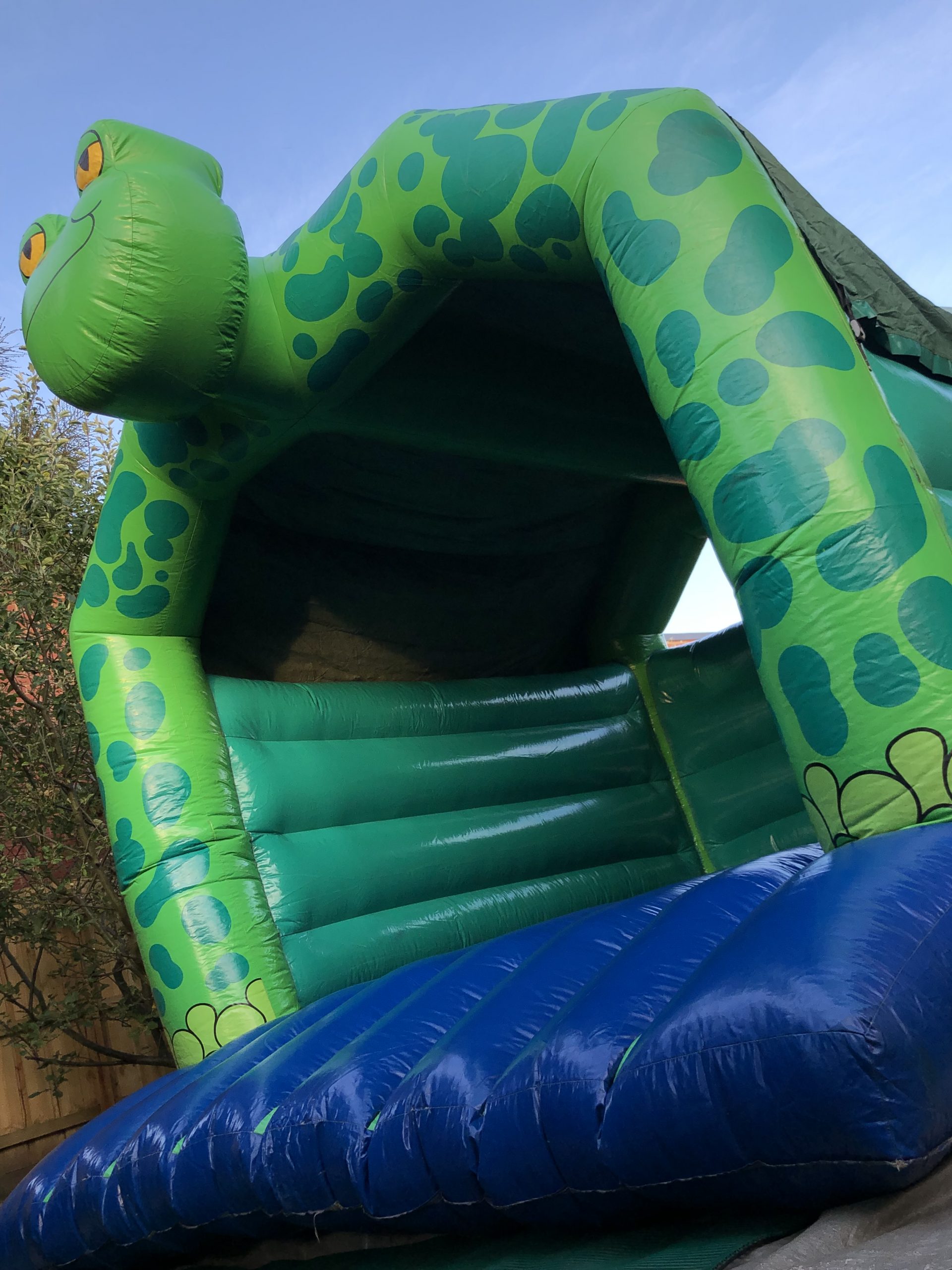 Froggy Fred – Great for kids upto 15yo
4m x 4m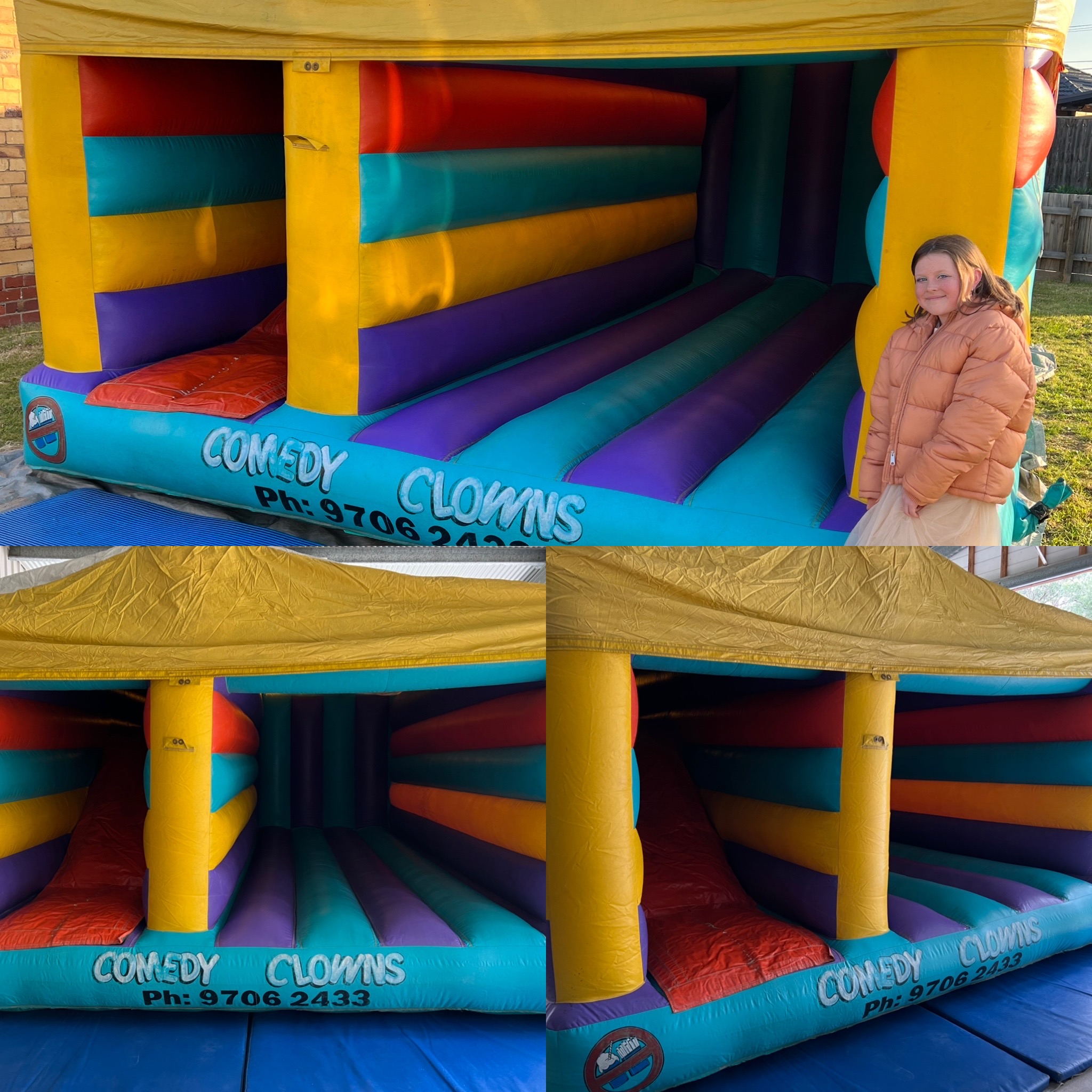 Rainbow Combo Castle/Slide – Great for kids upto 12yo

4m x 4m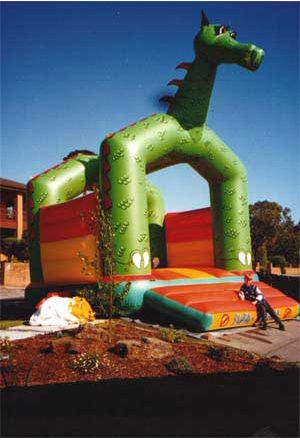 Dragon Jumping Castle and Slide
4.57m x 5.5m
Holds all ages including adults. This is our largest castle.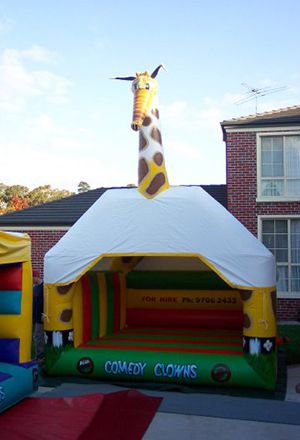 Jungle Giraffe – Fun Jumping Castle
3.7m x 3.7m
Ready to take your party to a whole new level?
Wish to have something that would create laughter and joyful moments at your party? Then look no beyond Comedy Clowns for all your party entertainment needs. We being an expert in making your party a grand success, the range of bouncy castles like frozen jumping castle and indoor jumping castle for hire in Melbourne, are known to steal the show. Our sole aim is creating an entertaining evening for your guests, and hence we strive hard to find all ways possible to leave smiles on all of their faces. May it be kids or adults, irrespective of their age, we provide jumping castles for hire in Melbourne that will totally be loved by each one of your party invitees.
It is god to laugh and be mystified at the same time.
The various bouncy castles we offer on hire are – giraffe castle, butterfly castle, Disney princess castle & cars jumping castle which will keep both kids & adults entertained for hours.
Bouncy Castles For Little Ones
Keeping your kids energy high all evening is our responsibility. With the colorful themed jumping castles Melbourne, your kids will never utter a word of boredom in the party. We have lived successfully by only creating happy moments for kids. With the attractive themes of bouncy castles, your kids will go into an imaginative world of their own and jump high in joy and fall with laughter. You could enjoy your time socializing with your guests, as we have figured ways out of keeping your kids entertained throughout. Our range of castles for kids' include:
Ghost bumps
Medieval Castle
The clown and the frog
Teddy bears picnic
Dragon
Football Jumping Castle
Frozen Jumping Castle
Adult Jumping Castle
Butterfly Castle
Combination slide and jumping castle
Giraffe castle
Twin slide
Medieval castle
World of Disney
Disney princess
Sponge Bob Slide/ Castle Combo
Looney Tunes
Cars Jumping Castle
Jumping could now be fun for adults too!
You will now not have to shed lots of money on buying a jumping castle as Comedy Clowns has made your job easier by providing you bouncy castle for hire in Melbourne. Our skilled operators will ensure that you are out of your stressed routine to enjoy some time out, feeling like a kid again. Our jumping castles can be set up at any place you want as we have castles that can run both on power and petrol. You could opt to party in either a rainy or a sunny weather as these castles are resistant to any weather conditions. These adult jumping castle hire Melbourne which include the Dragon and Clown theme are the ideal party entertainers for you to keep your guests entertained.
You can also hire a magician in Melbourne, whose tricks and actions will keep your guests locked in with fun and entertainment. We also provide professional face painting in Melbourne, where our painters make your kids imaginations turn into reality.
Castles are ideal for:
21st Birthdays
Christmas Parties
Street Fairs
Fetes
We have the following jumping castles amongst our fleet :
Looney Tunes – Kids Jumping Castle
Disney Pixar Cars – Kids Jumping Castle
Giraffe – Kids Jumping Castle
Rainbow Castle – Kids Jumping Castle
Bouncy Clown – Kids Jumping Castle
Teddy Bears Picnic – Kids Jumping Castle
Baby Dragon – Kids Jumping Castle
Footy Fever – Kids Jumping Castle
Butterfly Betty – Kids Jumping Castle
Rainbow Combo – Kids Slide/Jumping Castle
SpongeBob Combo – Kids Slide/Jumping Castle
Ghostbumps – Kids/Teenagers Jumping Castle
Medieval – Kids/Teenagers Jumping Castle
Froggy – Kids/Teenagers Jumping Castle
World of Disney Kids/Teenagers Jumping Castle
Big Mama Dragon – Adults Jumping Castle
Get In Touch