Face Painting Melbourne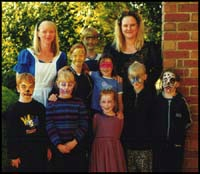 Add some creative art to those little faces
A birthday party, be it big or small, always brings happy curves on the little faces of kids. The moment a kid is informed about a birthday party, their imagination begins to wonder around cakes, chocolates, gifts and other entertainment activities that is in store for them. One such attention grabber at a party is the colorful face painting activity. With kids' role playing famous comic characters and super heroes, they would be delighted to look like one as well! At Comedy Clowns we wish to widen those little curves into bigger ones by providing face painting in Melbourne.
Give your child a transformed look of their favorite character
Hosting a birthday party with elements of fun has now become easier with the fun activities like face painting in Melbourne. The professional face painters will ensure they make the kids feel special and fill their imaginative world with more colors. From giving these little ones a cute animal face to making them look like a fairy tale angel, our expert face painters will please every kid at your party in the most entertaining way possible. What makes Comedy Clowns unique from the other similar services of face painting in Melbourne, is that our friendly face painters come dressed to your party in the form of Alice in Wonderland, Enchanted Wood Fairy or clowns. Your birthday party can now be a bigger success as the face painters go an extra mile on even creating balloon animals and also hosting other games and activities for your kids, apart from just face painting in Melbourne.
The art of keeping the children entertained comes to us naturally, as we are highly experienced in fulfilling every little wish of theirs, of getting to wear a colorful painted face of their favorite character. Our skill set and proficiency in face painting in Melbourne, has enabled us to straight away grant the wishes of children, without denying the task based on complexities. Call us at (03)97062433 as we also provide jumping castles in Melbourne for hire. You could also submit your queries online if you wish to hire a magician in Melbourne.
Below are some samples of our face painting work in Melbourne.