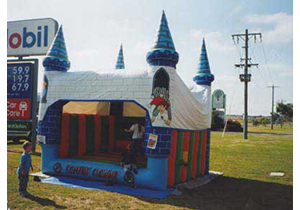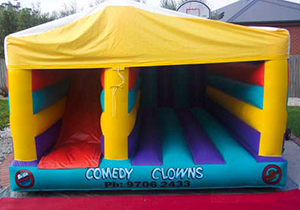 Have you ever thought of including the Hilarious Clown and Magician Hire Services? The magical traits performed by a magician will leave you curious and excited. Kids specially try to imitate the magicians and mimic their acts. Comedy Clowns offer professional magician hire services in Cheltenham that make any event entertaining.
Clowns make your event lively irrespective of the occasion. Be it a corporate event, kid's party or any other bash, clowns can enhance the fun quotient. With a slight hand of magic, balloon modelling and some unique clown traits, our clowns will capture the attention of your audience and leave them mesmerized. Clown hire in Cheltenham is just a call away with Comedy Clowns.
Cheerful Bouncy Jumping Castles
Kids bounce in high spirits during celebration and jumping castles just let their energies flow out. Our wide range of jumping castles for kids include Loonie Tunes, Sponge Bob, cars, princess castles and more. Jumping castle hire in Cheltenham will keep your guests entertained throughout the celebration. Jumping castles that match the theme of your party can shoot up the fun quotient of your party.
Creative Face Painting and Balloon Animal Making Services
It is fun for the kids to get transformed into their favorite characters while they celebrate. Our face painters will liven up your children's face in any bash. Face painting in Cheltenham is now made hassle free with Comedy Clowns.
Balloon animal making services attract kids as they are fascinated by colors and designs. These are small vibrant pieces of art that brings a smile on the kid's face. Our creative balloon animal making in Cheltenham ensures that no fun is missed out in your party.
For Hilarious Clown and Magician Hire Services. Call us at (03) 9706 – 2433 to know more about our services or post your queries online.